X2C
REVOLUTION IN PARAGLIDING WITH HIGH PERFORMANCE DESIGN
With the EN C 2-Liner X2C Alex Höllwarth launches the first ZooM product and were able to lift the performance to the next level in its class. The exceptional good handling together with its cracking performance sets a new marker in the EN C – XC sportclass. Apart from technical features like Shark Nose, 3 times 3D shaping, LE/TE miniribs (made with internal stitch technique) the X2C benefits from the airflow simulation software of Hannes Papesh and could therefore pushed to the edge of performance in his class.
TARGET GROUP X2C
The ZOOM X2C is aimed at experienced sport class XC pilots who can utilise the potential of this wing and have already completed some SIV training.
XC
0%
Competition
0%
Hike & Fly
0%
Durability
0%
Claim
0%
FLIGHT CHARACTERISTICS
X2C INSPIRED
Despite of the high aspect ratio of the X2C the wing launches easily and feels well controllable. Once In the air the X2C shows easy maneuverability and excellent climb performance. During the climbs in thermals the Sportclass XC wing has easy, but progressively increasing brake pressure throughout its brake range. In addition, the pilot gets always true feedback from the wing through the brakes. This makes the X2C a precise, easy-to-turn and responsive glider even in rough thermal condition with strong winds. Once accelerating, the X2C shows his high glide performance, which makes him a real competitor even to wings in high performance or open CCC class. The high wing stability and the responsive B-Steering allows the pilot to fly the ZooM X2C at top speeds, even in rough conditions.
SAFETY
SAFE FLIGHT CHARACTERISTICS
During development, in addition to the idea of performance, a lot of attention was paid to the safety-related flight characteristics. The X2C impresses with a manageable extreme flight and therefore deliberately does not push the EN-C 2-line sport class to its limits.
Size
85
95
105
115
125
Number of Cells
70
70
70
70
70
Area projected (m²)
17,53
18,67
19,84
21,05
21,88
Span projected (m)
9,24
9,53
9,83
10,12
10,32
Aspect ratio proj.
4,87
4,87
4,87
4,87
4,87
Area flat (m²)
20,77
22,11
23,50
24,93
25,91
Span flat (m)
11,61
11,98
12,35
12,75
12,97
Aspect ratio flat
6,53
6,53
6,53
6,53
6,53
Chord min. (m)
0,46
0,47
0,49
0,50
0,51
Chord max. (m)
2,24
2,32
2,32
2,46
2,51
Linelength avg. without riser (m)
6,65
6,86
7,07
7,28
7,42
Line consumption
(m)
209
215
223
230
235
Glider weigth (kg)
4,8
5,1
5,3
5,6
5,9
Recommended weight range (kg)
70-85
80-95
90-105
100-115
110-125
Certified weight range (kg)
65-87*
75-97
85-107
95-117
105-130*
Classification EN
EN C**
EN C**
EN C**
EN C**
EN C**
* in progress
** tested with folding lines / LTF D
---
WEIGHT RANGE
TECHNICAL HIGHLIGHTS
Shark Nose - optimized airflow at the leading edge
Rigidfoil - wrikle free wing at leading edge
Triple 3D Shaping - Reduced ballooning and wrikle free wing at leading edge
LE (Leading edge) Miniribs - made of internal stitch technique – enhances the wrinkle free finish of the leading edge. Results in top glide performance especially during accelerated flying.
TE (Trailing edge) Miniribs - made of – made of internal stitch technique – enhances static stability on the trailing edge of the wing.
Airflow simulation software by Hannes Papesh – performance increase due to optimized cell design and wing canopy finish
MATERIAL OF THE X2C
| | |
| --- | --- |
| Top sail material | Myungjin MJ32MF (32gr) |
| Bottom sail material | Myungjin MJ32MF (32gr) |
| Material inside | Porcher Skytex 40 hard (40gr) |
| Top lines | Liros DC60, Edelrid 8001-040/050 |
| Center lines | Liros DC60, Edelrid 8001-050/190 |
| Trunk lines | Liros PPSLS 260/125, Edelrid 8001-090/190 |
| Brake lines | Liros DFLP200/32, Edelrid 8001-040/050/070 |
| Carrying strap | Liros Kevlar 13mm |
SCOPE OF DELIVERY
Concertina Bag
Packing Tube
Repair cloth
Keychain
Mini windsock
Tape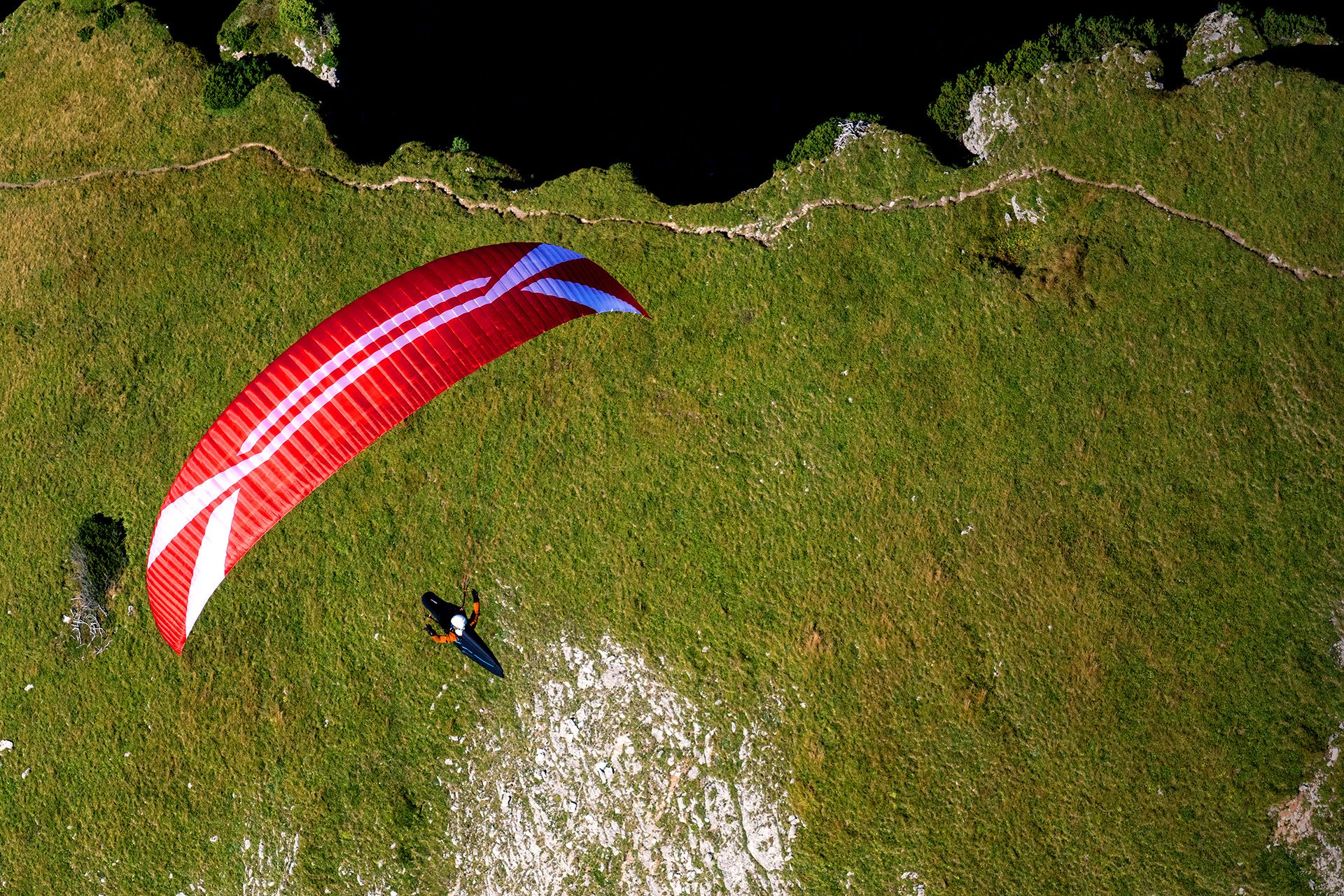 Intuitive.
Powerful.
Secure.
ZOOM has also put a lot of thought into the design. The modern and attractive ZooM design stands out and underlines the agile and powerful character of the X2C.